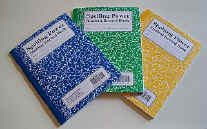 Each Spelling Power Student Record Book provides enough forms for one student to master the words on at least one level of the Spelling Power program.
The books are conveniently bound and all the forms are printed in light blue so the student's own handwriting stands out. These pre-printed books generally cost less per page than printing the forms from the masters provided on the Spelling Power Teacher Resource CD-ROM or photocopying the black-line masters in older editions of the Spelling Power manual.
A page with the Record Book line spacing is available. This is an Adobe Acrobat file and will open in a new window. You may print it out to compare line spacing sizes.
The Student Record Books are priced at only $5.95 per book and are available in three sizes of lines:
Blue - 1/2" or approximately 'wide-ruled'
with light mid-line for 2nd - 4th grade students.

Student Record Books are $5.95 each


Sample line spacing above is approximate.
Please view Line Spacing Sheet for actual size.



| | | |
| --- | --- | --- |
| | | |