Writing for Learning Handwriting Series
The Writing for Learning handwriting program is a simple, effective handwriting program. It provides a complete back-to-basics, traditional course in handwriting. Its goal is to help your students learn to write so they can write to learn. Research shows that handwriting plays an important role in literacy development. Teaching handwriting with Writing for Learning prevents your student from developing bad habits. It builds the good habits of using proper strokes and hand positions that make writing effortless even for the most reluctant writer. The Writing for Learning style is beautiful and traditional. If you would like your students to have truly beautiful handwriting, this is the series for you.
Writing for Learning: Pre-K Reading and Writing Readiness
Writing for Learning: Reading and Writing Readiness for Pre-Kindergarten helps students develop essential early literacy skills such as:
Letter and numeral recognition
Visual discrimination
Directionality
Perceptual and motor skills
Size relationships
Left and right hand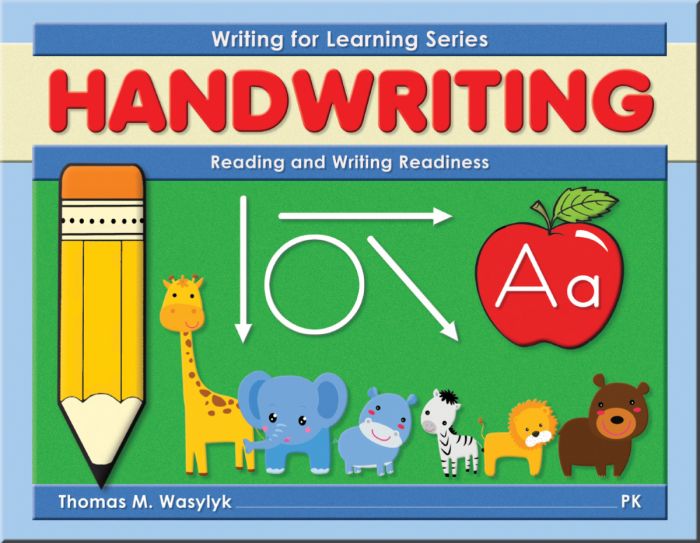 Writing for Learning: Learning Manuscript Letters (PK/K)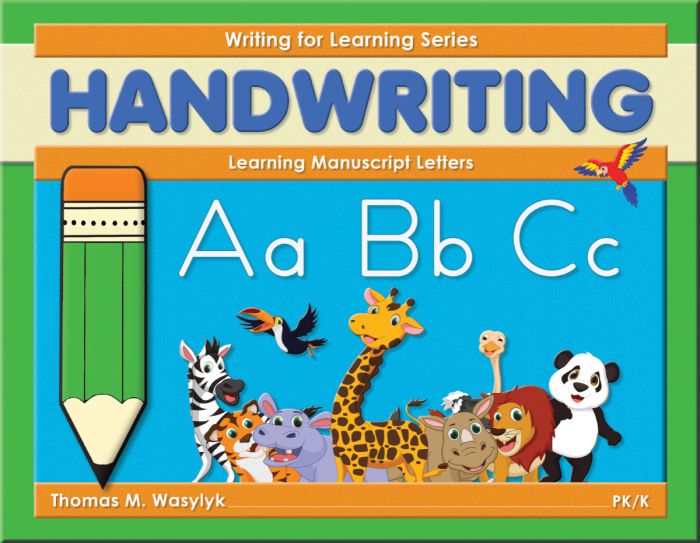 Add to Cart (11.95)
Writing for Learning: Learning Manuscript Letters for Pre-K or Kindergarten follows a unique method of introducing manuscript handwriting. This transitional workbook helps students thoroughly understand the construction of each letter before and during practice.
Students review and practice manuscript basic strokes, an essential step in early handwriting success.
Each letter is broken down stroke by stroke, so students know exactly how the basic strokes relate to the whole letter.
Matching activities on every letter page reinforce letter recognition and help to prevent reversals.
Writing for Learning: Kindergarten: Writing Letters and Words

Writing for Learning: Writing Letters and Words helps kindergarten students learn proper manuscript letter formation.

Students trace and write manuscript basic strokes, uppercase and lowercase letters, and numerals.
Traceable words on every letter page provide additional practice and reinforce reading skills.

Check-ups encourage students to self-evaluate their work so they can recognize and immediately correct errors.

Add to Cart (11.95)

Writing for Learning: Manuscript Enrichment (Grade 1)

Add to Cart (11.95)

Writing for Learning: Manuscript Enrichment for first grade helps students refine their handwriting skills.

Students trace and write manuscript basic strokes, letters, and words.
Word and sentence models reinforce proper letter and word spacing.
Check-ups encourage students to self-evaluate their work so they can recognize and immediately correct errors.

Writing for Learning: Grade 2: Manuscript Maintenance

Writing for Learning: Manuscript Maintenance for second grade provides a thorough review of manuscript letter formation to help students maintain legible handwriting.

Students review manuscript basic strokes, letters, and numerals.
Word and sentence models reinforce proper letter and word spacing.
Check-ups encourage students to self-evaluate their work so they can recognize and immediately correct errors.

Add to Cart (11.95)

Writing for Learning: Grade 2: Manuscript/Intro to Cursive

Add to Cart (11.95)

Writing for Learning: Manuscript Review and Introduction to Cursive for second grade prepares students to make the transition from manuscript handwriting to cursive handwriting.

Students write manuscript and cursive basic strokes, letters, words, and sentences.
Every lowercase cursive letter page includes joining models to help students learn how to properly connect letters.
Check-ups encourage students to self-evaluate their work so they can recognize and immediately correct errors.

Writing for Learning: Grade 3: Beginning Cursive

Writing for Learning: Beginning Cursive Writing for third grade provides students with a detailed introduction to cursive basic strokes, letters, joinings, and numerals.

Students trace and write basic strokes, letters, joinings, and numerals.
Cursive word and sentence models help students learn proper spacing.
Every lowercase cursive letter page includes joining models to help students learn how to properly connect letters.
Check-ups encourage students to self-evaluate their work so they can recognize and immediately correct errors.

Add to Cart (11.95)

Writing for Learning: Grade 4: Cursive Enrichment

>

Writing for Learning: Cursive Enrichment for fourth grade builds on previously introduced cursive handwriting skills. More word and sentence practice helps students begin to write in cursive with greater confidence.

Students review cursive basic strokes, letters, and numerals.
Detailed stroke descriptions help students understand proper letter formation.
Special pages on joining cursive letters remind students how to properly connect letters.

Add to Cart (11.95)

Writing for Learning: Grade 5: Cursive Maintenance

Writing for Learning: Cursive Maintenance for fifth grade provides helps students exercise their cursive writing skills to maintain legibility and improve fluency.

Standard writing lines include a midline guide to reinforce proper letter size.
Detailed stroke descriptions help students understand proper letter formation.
Special pages on joining cursive letters remind students how to properly connect letters.

Add to Cart (11.95)

Writing for Learning: Grade 6: Cursive Enrichment

Writing for Learning: Cursive Writing for sixth grade provides detailed cursive writing instruction. It's ideal for students with previous cursive instruction as well as those new to cursive.

This workbook includes a thorough basic strokes review, elements of legibility, and individual letter practice with stroke descriptions
Detailed stroke descriptions help students understand proper letter formation.
Special pages on joining cursive letters remind students how to properly connect letters.

Add to Cart (11.95)

Writing for Learning: Grade 7 and Up: Cursive Writing Self-Improvement

Writing for Learning: Cursive Writing for seventh grade and above provides detailed cursive writing instruction. It's ideal for students with previous cursive instruction as well as those new to cursive. This workbook includes a thorough basic strokes review, elements of legibility, and individual letter practice with stroke descriptions. Detailed stroke descriptions help students understand proper letter formation. Special pages on joining cursive letters remind students how to properly connect letters.

Writing for Learning: Grade 7 and Up:
Cursive Writing Self-Improvement